A talk on happiness & meditation with Orgyen Chowang Rinpoche
May 6th: 7:00 pm to 9:00 pm
We can spend our entire lives searching for happiness externally, but true happiness can only be found within. If we simply remove the barriers between us and our true nature, our inner happiness comes out. When we know our minds are fundamentally comfortable, innately happy, then wherever we go, whatever we do, happiness is always with us.
This evening talk with Orgyen Chowang Rinpoche offers a rare opportunity to encounter Buddhist principles for working with our mind from a lineage holder of this tradition. Rinpoche will introduce us to methods for experiencing and expanding our natural state of happiness, and ways of applying these skills to every area of our lives.
Beginners welcome—no previous experience with meditation or Buddhist practice is necessary. 
About Orgyen Chowang Rinpoche: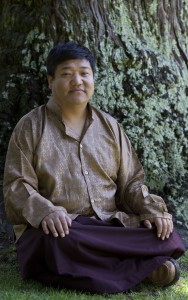 Orgyen Chowang Rinpoche is a meditation master in the Nyingma lineage of the Buddhist tradition. He studied for ten years at Lharang Gar in Serta, eastern Tibet, with his teacher, the great Jigmed Phuntsok Rinpoche, who is widely acknowledged as one of the greatest Dzogchen masters of the 20th century. Orgyen Chowang Rinpoche lives in the San Francisco Bay Area and is the founder and spiritual director of Atiamrita, an organization dedicated to promoting happiness, inner peace, and enlightenment. He is currently writing his first book as well as traveling throughout North America speaking on meditation and spirituality.
For more information on Orgyen Chowang Rinpoche visit www.atiamrita.org