Pain in the sacroiliac joint and the lower back can range from irritating to debilitating. In this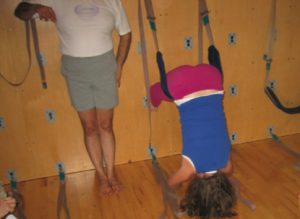 four-week program, learn the anatomy of lower back pain, and how to do specific stretches to release and relieve muscle spasms and misalignment of the SI joint and spine. Learn how changing your subconscious thoughts and feelings changes your health and what foods you can eat to reduce inflammation and pain. This workshop will cover stretching, breath, nutrition, and yogic thoughts to apply in your day-to-day life so that you can hear what your body is trying to tell you. Heal your pain without medication or surgery.
Workshop 1: Mid-day class: Tuesdays from noon to 1:30:
Sept. 18, 25, Oct. 9, 16
Workshop 2: Evening class: Wednesdays from 7:45 – 9:15 pm
Sept. 19, 26, Oct. 10, 17
Cost: $120, your spot is guaranteed when you pay in full Space is limited to insure individual attention and instruction. SIGN UP Here! 
All Levels, no yoga experience necessary Yes, YOU can do this!