An extremely rare opportunity to hear a master teacher's

 talk on happiness & meditation. Presented by Orgyen Chowang Rinpoche
July 28th: 10:00 am to 11:30 am
The true nature of our mind

is brilliant, clear, and joyful. But we don't experience this reality amid the swirl of stresses, thoughts, and emotions of day-to-day life. Our Pristine Mind is a practical guide to uncovering our naturally comfortable state of mind and reconnecting with the unconditional happiness that is already within us. Using straightforward, accessible language, Orgyen Chowang Rinpoche leads us through the path of Pristine Mind meditation, a practice from the profound teachings known as Dzogchen. His book presents the entire journey of meditation, from the very beginning all the way to the complete happiness of enlightenment. It is a realistic, natural process that can be practiced and experienced by anyone.

Beginners welcome—no previous experience with meditation or Buddhist practice is necessary. You can order Our Pristine Mind on amazon by clicking here. (And make sure to bring it with you and have it sign by Rinpoche). 
About Orgyen Chowang Rinpoche: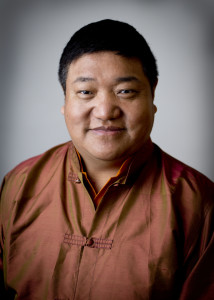 Orgyen Chowang Rinpoche is a meditation master in the Nyingma lineage of the Buddhist tradition. He studied for over ten years at Lharang Gar in Serta, eastern Tibet, with his teacher, the great Jigmed Phuntsok Rinpoche, who is widely acknowledged as one of the greatest Dzogchen masters of the 20th century. Orgyen Chowang Rinpoche lives in the San Francisco Bay Area and is the founder and spiritual director of Atiamrita, an organization dedicated to promoting happiness, inner peace, and enlightenment. He is currently writing his first book as well as traveling throughout North America speaking on meditation and spirituality.
For more information on Orgyen Chowang Rinpoche visit pristinemind.org